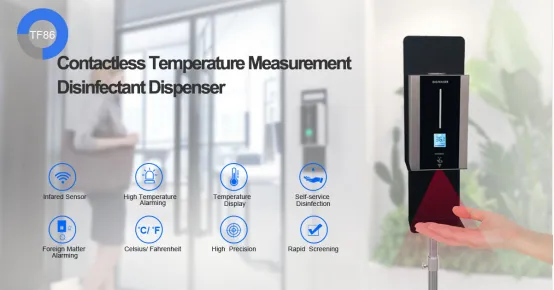 Now as the global epidemic, believe in the future for a long time all pay great attention to the temperature test and disinfection in public places in order to ensure environmental safety, Shenzhen Rakinda recently developed new products - mobile intelligent epidemic TF88 temperature sterilization machine equipment, its main entrance to public space of personnel for non-contact infrared temperature detection, safely and accurately determine whether there is any abnormal body temperature, temperature at the same time can also be to personnel hand table body spray disinfection machine disinfection, to avoid the potential spread of disease.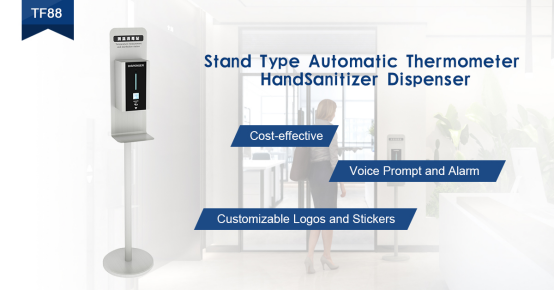 It is reported that the distant temperature disinfection station is an accurate, convenient and mobile temperature disinfection equipment, built-in automatic induction rapid temperature infrared temperature measurement system used to complete the automatic screening of the body temperature, can replace the epidemic prevention personnel rapid screening of abnormal body temperature in the crowd. When people stand in front of the all-in-one machine and aim their forehead at the temperature measuring point for 1-2 seconds, the all-in-one temperature measuring and disinfection machine will automatically complete the temperature detection. At the same time, people can disinfect their hands while measuring the temperature to avoid virus and bacterial infection. It is not only easy to install and use, simple, high accuracy, but also can be used as a rapid temperature detection and disinfection equipment for fever patients. Its product features are as follows:
(1) Adopt high-precision infrared sensor, stable and reliable performance;
(2) Combined with automatic temperature detection and automatic hand washing liquid, disinfection is more convenient;
(3) Strong environmental temperature adaptability, can still be used normally in a complex environment;
(4) Intelligent digital display screen, clear and soft display;
(5) Intelligent power saving and automatic wake up;
(6) Two temperature units, Celsius and Fahrenheit, are available;
(7) bilingual Chinese and English, can meet most regions;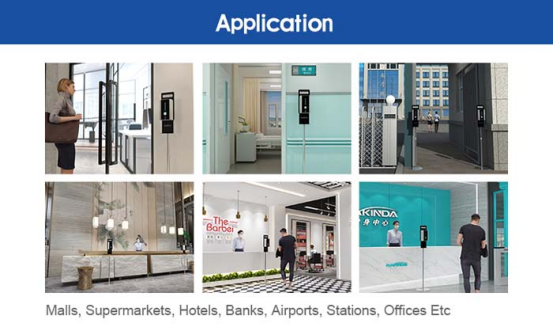 This product is applicable to such as schools, units, hospitals, hotels, Banks, the government, enterprises, ports of entry and exit, port, airport, dock, station, gymnasium, big business, hotel, customs, family or other public places, etc., to facilitate rapid screening of patients with fever patients and disinfection of hands, in order to reduce the transmission and spread of the epidemic, provide control efficiency, reduce the workload of staff, reduce the workers exposed to risk in patients with suspected before.