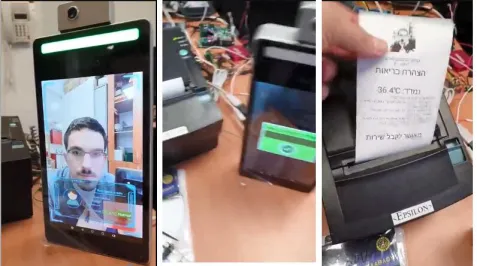 With the outbreak of infectious disease, the face recognition with temperature measurement is very necessary. You can see many places such as school, supermarket , office,hospital and communities that need to check temperature and register personal information. Rakinda keep paces with time and develop the product F2-H, and developed its own application for access control or attendance.
Our F2-H Face Recognition Infrared Temperature Measuring Device has below features:
·Dual infrared and RGB fill light at night; Infrared temperature measurement, optional mask recognition
·Support external access control card reader, ID card reader
·Support RS-485 serial port, Wiegand 26/34 output interface, support relay, door switch, door magnetic output content
·Support 29,000 people to store historical records locally
·Support HTTP interface connection
.Support Online and off line
This product is very mature and hot sale, which already have exported a lot to foreign countries, such as Israel, Serbia, Italy, Chile, etc. And customer can developed his own application based on our SDK and API. And our engineer is very professional and can communication with customer directly.
One of our customer from Israel successfully connected our device F2-H with their printer based on our SDK and API. And our own application communicate with their app by Active MQ.Below is customer applications, which is widely used in bank.
By this application, the information can be recorded by the paper. And the printed paper including visitor's picture , temperature and so on. The information can be keep in the bank. . F2-H can be used independently, without connecting to a computer, it can complete various functions such as personnel registration, attendance and storage records.. It is completely non-contact, which can avoid the infection of bacteria, and it is more healthy and sanitary for people and equipment.