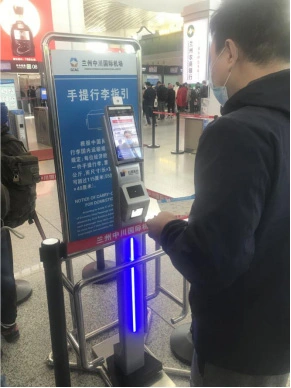 Project Achievement: Under the current complex and severe situation of overseas epidemic situation, in order to further improve the various epidemic prevention and protection work of entry places, the recent national health code precision epidemic prevention application program provided by Shenzhen Rakinda Technology is integrated with face recognition temperature measurement and access control machine (health code passable column model) was officially launched at Zhongchuan International Airport in Lanzhou, Gansu Province. With the help of face temperature measurement and health code series terminals, the epidemic prevention and control capabilities of airports, ports, overseas gates and other places of entry are effectively improved. The personnel strictly implement the quarantine measures of "Three Must Checks-Checking Body Temperature, Checking ID Card and Epidemic Prevention Health Code Information", and every incoming passenger will undergo mask wearing test, body temperature screening, identity verification and health code identification verification , Which provided strong support for the construction of the Lanzhou International Airport epidemic prevention station line.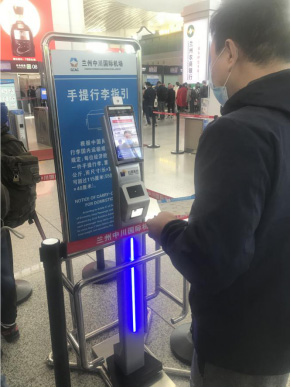 Installation equipment: After communicating and coordinating with the local government, the airport company installed the F2-FHS face recognition and health code verification integrated machine as a thermal imaging human body temperature measurement device for the entrance and exit of Lanzhou International Airport based on the preparation of epidemic prevention materials. Inbound passengers can simultaneously complete real-name identity registration, health information recognition, and body temperature registration by presenting their health code or ID card, which further reduces the risk of cross-contact between control personnel, and can quickly retrieve registration data in response to sudden risks. Locate and trace the trajectory of sensitive personnel.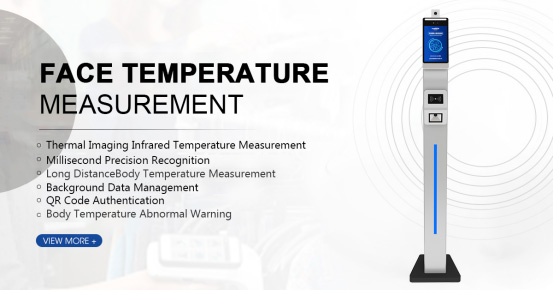 Program features: The program follows the national standard of "Personal Health Information Code", supports the identification and verification of the epidemic prevention health code of the national government service platform, and is also compatible with the health code recognition of other provinces and cities; it can flexibly and quickly provide docking with various epidemic prevention and control needs and identify The organic integration of information, health code information and body temperature can meet the needs of hospitals, schools, communities, park buildings, government agencies, public security checkpoints, venues (museums, libraries), airports, ports, overseas gates and other entry sites and various risks Places and other mandatory requirements for "hard-core epidemic prevention" in the post-epidemic era.